Continuing with the perennial question of where the best place is to buy cards from, this month I'm looking at auctions. Auction Houses can be found in many parts of the country and as postcards feature in many non-specialist sales its well worth studying the local papers to see if there are any near you.
Larger houses such as Phillips (see footnotes) or Sothebys in London hold specialist postcard auctions two or three times a year whilst other such as Specialised Postcard Auctions hold a sale every month.
The current edition of the PPM annual lists both the Public and Postal Postcard Auctions along with information as to their frequency, cost of catalogues, contact address etc. Buying cards in this way can be a lot of fun, although you have to keep your wits about you and decide on your price limit and stick to it. The first thing to do is get a catalogue, preferably a while before the sale date. This enables you to study the lots at your leisure and decide which ones are of interest to you. There will the chance to view the lots usually the day before the sale and I strongly recommend you do this.
Viewing allows you to decide how much the cards are worth to you in the light of their condition and number. Some lots will contain individual cards but others may be a shoe box full. If you can't attend the actual auction you can always send a postal bid or leave a bid when you view. This should be the highest price you are prepared to pay, but do remember to take into account any buyers premium (often 10% + VAT ) (see footnotes) that is added to the price - study the conditions in the catalogue as they vary with each auction house. Plus if you want any lots sent to you remember postcards can be heavy in large amounts so don't forget the p&p. However, if you can try to attend the auction.
They are great fun to take part in as long as you don't get carried away! It is useful to make a note of the realizations of as many lots as you can so you can find out what type of cards are most in demand and adjust your expectations accordingly at future auctions! If you haven't got the time for this type of buying it is now possible to buy postcards 24 hours a day, 365 days a year on the internet.
Over the past few years numerous on-line auction sites, mainly USA based, have sprung up to meet the growing demand for the sale of low value collectibles. Most sites offer goods with a description and photo and bids are invited for a limited time. You are told any reserve price, the current level of bidding and a history of previous bids. The time remaining for bids on each lot is shown - often the bidding hots up in the final remaining minutes, so remember to check to see if you have been outbid as the deadline approaches!
To be able to bid you will need to register, and some sites may ask for credit card details, so do remember to check out the conditions of sale of the site before you bid and don't register with any auction house that asks for up front fees . Most online auctions sites charge a commission to sellers and some to buyers. The sellers' fees are usually nominal, a listing fee (up to $2) and a final transaction fee (a percentage of the final sale).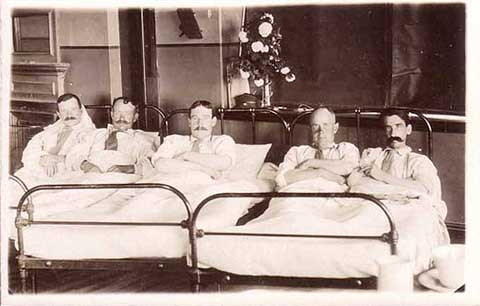 Five men in a Bed You too can stay in bed and still find amazing bargains on the internet.
I spent a boring Saturday evening accessing various sites to see how many "old postcards" were on offer and how easy the site was to navigate. After looking at several sites my favourite has to be E-Bay. (www.ebay.com).This is the worlds leading person-to-person online trading community and is one of the most visited shopping sites on the web, with over 1.8 million registered users.
On the evening of my visit 5776 lots of postcards were on offer, and 746 lots of old postcards. Prices ranged from $0.99 upwards, and it's a good idea to have a calculator handy to convert dollars to pounds. The lots were displayed well with clear descriptions, information about the bidding, terms and conditions, shipping details etc as well as in most cases a clear photograph. In contrast, www.auctions.lycos.com found 144 postcards but on further investigation these included computer equipment as well as a holiday down the Nile! When I tried to search for old postcards only 1 lot came up and that was from someone called mustang Bill who offered to send a card picked at random from a pile. This didn't impress me and I won't be returning to that site in future.
Hopefully this has given you a taste for auctions, they can be a good way of picking up bargains as long as you keep your wits about you and remember everyone buys a duff lot at some time or other; you have to just put it down to experience!
PLEASE NOTE: Since writing this article time has moved on Phillips has now merged with Bonhams and is just called Bonhams. They hold 2 postcards and cigarette card auctions a year. The average buyers' premium is around 15 – 20% Ebay.co.uk has swamped all other online auctions and is now the only substantial one. Many articles have been written about it in Picture Postcard Monthly as well as the national press.
Next article: Where to buy : Shops and Approvals