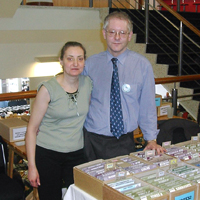 S. Jones Stamps
contact : Sylvia Jones

address :
20 Pennine Way
Brierfield
Nelson
Lancs
BB9 5DT


phone : 01282-699565

email : sjones@sjones41.freeserve.co.uk

website : www.postcards-for-sale.com

1. Direct sale, by post, of (mainly) GB topographicals. Customers select from priced scans of cards emailed to order, or from lists of numbered cards, or postal approvals. Paypal facility for internet customers available.

2. Occasional fairs (notification on my website)

3. Delcampe

4. Buying: Postcard views of anywhere in UK and Ireland. Classic size (5.5 x 3.5 ins) only. Good condition essential. See our website www.postcards-for-sale.com for examples of what we sell.

delcampe seller : surfinia2

Categories : Dealer in old postcards.