PTA Member : S. Jones Stamps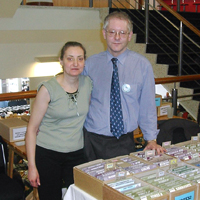 1. Direct sale, by post, of (mainly) GB topographicals. Customers select from priced scans of cards emailed to order, or from lists of numbered cards, or postal approvals. Paypal facility for internet customers available.
2. Occasional fairs (notification on my website)
3. Delcampe
4. Buying: Postcard views of anywhere in UK and Ireland. Classic size (5.5 x 3.5 ins) only. Good condition essential. See our website
www.postcards-for-sale.co.uk
for examples of what we sell.
Many dealers will take visits by appointment only. Please ensure you make contact before travelling any distance.