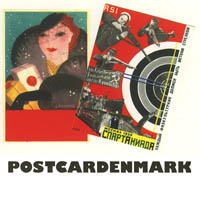 Postcardenmark
contact : Palle H. Petersen & Kirsten Andersen

address :
Tvaergade 57
DK-4800
NYKOBING FALSTER
Denmark



phone : 4554859557

email : postcardenmark@post.tele.dk

website :

We specialize in Vintage Quality Postcards: Most subjects, including 30's-70's Aviation, scarce Scandinavian & Russian Royalty, artist signed Scandinavian Art Deco.

Worldwide topo, including Faroe Islands, GB and USA RP's, Germany.
We stock a fine selection of CDV & Cabinet Photos: ROYALTY, Circus/Variety and Social History.

Meet us here: Salon du Livre et Papiers Anciens and CARTEXPO in Paris, VERONAFIL in Italy, MEGACARTA in NL, BRUSSELS and major postcard shows in Hamburg, Berlin, Cologne, Stuttgart.

ebay seller : Postcardenmark

delcampe seller : Postcardenmark

Categories : Dealer in old postcards.