Created in 2000, Delcampe is an Internet auction site specialized in collectables. With over 250,000 members, it gathers an international community of collectors on a single site in 6 languages and has the lowest fees on the market. Trading on Delcampe is easy and secure and you will find more than 15 million items for sale, 5 of which are postcards covering a wide range of subjects. See you soon on Delcampe.net!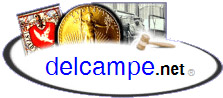 Delcampe International are members of the Postcard Traders Association.

Postcard Traders Association members who are also sellers at Delcampe.net are listed below.
Click on the ebay id. to view their current lots or on the name for more details.

Please see also our separate list of specialist auction services.

click on the name below for more information...