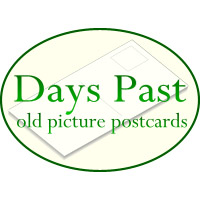 Days Past
contact : Michael & Ruth Day

address :
Sunnyfield
Welsh Road
Childer Thornton
Ellesmere Port
Cheshire
CH66 5PG

phone : 0151-339-5422

email : dayspast@sunnyfield.co.uk

website : www.dayspast.co.uk

We buy and sell all types of old photos and picture postcards for most subjects and locations worldwide. We have produced our own range of sepia duo-tone postcards covering lace making, football, shipping, seaside, rural, scottish social history, Liverpool etc. Days Past is just a part of our business - we also supply sepia photographs from our own collection of images, provide a photographic service for hand printed copies from your own originals and offer internet hosting solutions and web page design. www.sunnyfield.co.uk

ebay seller : rmdimages

Categories : Dealer in old postcards. Postcard Accessories Supplier.