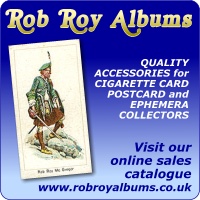 Rob Roy Albums
contact : Jean Davis

address :
"Crosshall"
Chelsfield Village
Nr. Orpington
Kent
BR6 6EN


phone : 01689-828052

email : robroyalbums@btinternet.com

website : www.robroyalbums.co.uk

Specialist suppliers of an extensive range of Quality Accessories to Cigarette Card, Postcard and Ephemera collectors. We sell our own Postcard/Cigarette Card Albums with polypropylene pages in a range of sizes, plus Postcard Storage Boxes, Postcard Protectors, Monthly Collectors Magazines etc.

Categories : Postcard Accessories Supplier.