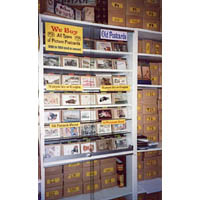 Sunnytown Postcards
contact : Chris Saltmarsh

address :
Sunnytown Postcard Shop
Cromwell House Antique Centre
Maltings Road
Battlesbridge
Essex
SS11 7RF

phone : 01708 344558 07958 561792

email : user653536@aol.com

website : www.vintagepostcardshop.co.uk

Spacious friendly Postcard shop. Specialisation in Essex, Home Counties and London suburbs All counties, countries and subjects stocked.

Good seating, refreshments & personally manned by myself. Within established thriving antique centre.

I do NOT attend fairs or do approvals. My stock is far too large. Open 10.30 - 5.00pm Tues to Fri, please always ring before you visit.

400 categories of indexed stock. Huge selection of photographs and paper ephemera Always buying new stock from heirloom sources.



Categories : Dealer in old postcards.