PTA Member : Sunnytown Postcards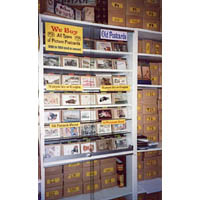 The Vintage Postcard Shop
Important notice the Sunnytown Postcards - Vintage Postcard shop is closed with immediate effect.

Sunnytown Postcards and Collectables have been trading since 1992.
I can be found on the internet by using the search term of vintage postcards, Sunnytown Postcards, Sunnytown Collectors Shop, Chris Saltmarsh Postcards, Essex Postcard Shop or vintage postcard shop, Essex Coin Shop, Essex Banknote Shop.

I buy and sell a wide range of genuine Old collectables. I specialize in old picture postcards, I have a large range of British County topographical postcards especially strong in Essex, Sussex, Kent, London suburbs and the home counties but I also have a good representation of subjects, themes and foreign postcards from 1890 to 1960.

I also stock ephemera, advertising collectables, old tins, tinplate and die-cast toys, militaria medals, badges, coins, banknotes, crested china, childrens annuals, small antiques, carte de visite, CDVs Victorian Cabinet photographs and a whole lot more.




Many dealers will take visits by appointment only. Please ensure you make contact before travelling any distance.