PTA Member : Rob Roy Albums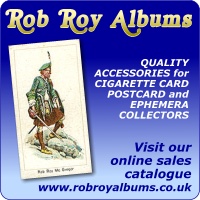 Specialist suppliers of an extensive range of Quality Accessories to Cigarette Card, Postcard and Ephemera collectors. We sell our own Postcard/Cigarette Card Albums with polypropylene pages in a range of sizes, plus Postcard Storage Boxes, Postcard Protectors, Monthly Collectors Magazines etc.


Many dealers will take visits by appointment only. Please ensure you make contact before travelling any distance.