The Symbol of Fair Trading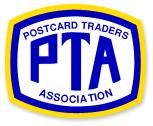 The Postcard Traders Association represents the UK's foremost dealers (and increasingly from overseas!), auctioneers, fair organisers, publishers and accessory distributors amongst its members.
All have been vetted to ensure that the high standards and objectives set upon its foundation are maintained to help in protecting collectors against unfair or dubious trading practices.
Aims and Objectives of the PTA
The Association does all it can to promote both publication and collecting of postcards. It also aims to encourage fair trading within the Postcard hobby and, as such, has agreed a code of ethics which all members are required to adhere to.
For postcard dealers this includes stipulations such as presentation of stock and mandatory pricing of all cards offered for sale, accepting cheques, making fair offers for material offered to buy, giving refunds, not knowingly buying stolen goods and a requirement to prosecute anyone caught stealing from their stock.
Members are expected to maintain the highest standards of fair trading at all times and to do all that they can to promote, encourage and advance the Picture Postcard.
The Committee of the Association will investigate any written complaints made against a member, acting as arbitrator if necessary, and any adjudication made is final and binding. The Committee has the power to terminate the membership of anyone who fails to maintain the required standards.
It is, in effect, a guarantee or badge of fair trading, known by collectors and other dealers, and to the benefit of the members and the general public with whom they deal.

PTA Postcard Promotion
The larger part of the work the PTA does in promoting postcards is carried out by the elected members and officers of the PTA committee.
Much of this is geared towards our annual showpiece events the 'South of England Postcard Fairs' at Woking These are the 'focus' of our promotional activity, where we have a good deal of success in bringing postcards to the public eye and to the attention of the media.
Other activities include...
Supplying articles features and other information for use by the press and other media, to ensure that Postcards are in the public eye as much as possible and subsequently dealing with the many enquiries the publicity brings.
Running the PTA's promotional stand at various shows and functions - most notably recently the Genealogy fairs.
Helping postcard clubs with their own promotion by supplying leaflets for distribution and support via the web site.
All work including the maintenance of our internet presence is done on a purely unpaid/voluntary basis by people who are dedicated to ensuring a prosperous future for the postcard industry and collecting hobby.
Of course anyone can get involved in promoting 'Postcards' whether they are members of the PTA or not. If you are involved in any such activities please contact us, we will be glad to do all we can to help, particularly through the pages of this site.