South of England (Woking) Postcard Fairs
COVID-19 - The Postcard Traders Association is monitoring all the current advice from the UK Government with regard to the current Covid-19 situation. We will adhere to that  advice at all times, as should you all.
We have taken the decision to CANCEL our September 18th / 19th 2020 event.

For 2021 dates we will naturally take any necessary steps/precautions  that may be necessary under UK Government guidelines nearer the time.
The Postcard Traders Association organises its own Postcard Show at Woking Leisure Centre (Surrey).
The event was originally organised by PTA member Michael Goldsmith and was taken over by the PTA in 2011

The event is held twice yearly in spring and autumn.
Although principally postcards the fair also features Cigarette Cards, Paper Collectables (Ephemera) and Stamps.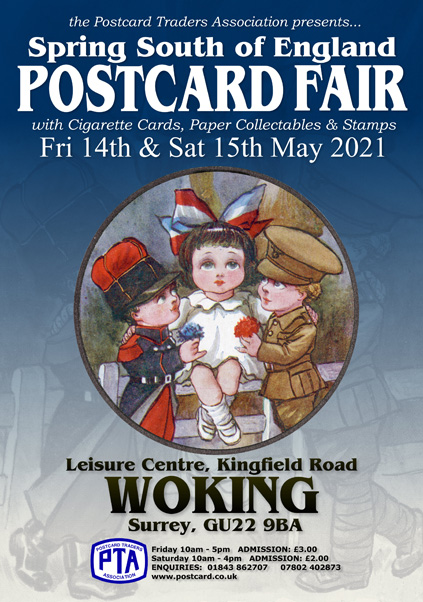 Spring South of England Postcard Fair
14th & 15th May 2021
Featuring top dealers selling Postcards, Cigarette Cards, Paper Collectables (Ephemera) and Stamps.
The Woking Postcard Fair is held at :
Woking Leisure Centre, Kingfield Road, Woking, Surrey. GU22 9BA
Friday 10am - 5pm. Admission £3.00
Saturday 10am - 4pm. Admission £2.00
There is no 'early entry' available for this event.

Promotional Material
Click here or on the image for a full size printable poster

Next event... 14th & 15th May 2021
Autumn 2021 ... 17th & 18th September 2021
Table Bookings
The Woking Postcard Fairs are open for booking to both members and non-members of the PTA (Postcard Traders Association) though members can book tables at a discounted rate.
PTA member discounts
Deduct 50% for bookings paid in advance.
Booking Form

A booking form is available here in PDF format
Enquiries
Please contact Clive Baker
tel:
07802 402873
email:
info@clivebaker.co.uk