PTA Member : Sunnytown Postcards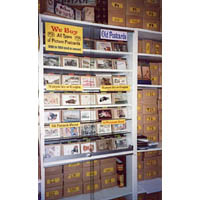 Sunnytown Postcards and Collectables have been trading since 1992. 
I buy and sell a wide range of genuine Old collectables. I specialize in old picture postcards, I have a large stock of British County topographical postcards, especially strong in Essex, Sussex, Kent, London suburbs and the Home Counties but I also have a good representation of all counties within the United Kingdom and Ireland, subjects, themes and foreign postcards from 1890 to 1960. 

I also stock paper ephemera, advertising collectables, old tins, tinplate and die-cast toys, militaria, medals, badges, small antiques, carte de visite, CDVs Victorian Cabinet photographs and a whole lot more. 
I am always keen to purchase postcard collections.
contact :
Chris Saltmarsh
phone :
01708 344558 07958 561792
email :
user653536@aol.com
Categories :
Dealer in old postcards.
Many dealers will take visits by appointment only. Please ensure you make contact before travelling any distance.