Welcome to the Postcard Pages website. The site aims to supply information on all aspects of postcards to a wider audience.

Whether you are looking for dealers suppliers or printing services, or perhaps trying to find out about an old card, then you are as welcome here as the thousands of postcard collectors who visit the pages regularly.


Dealers Lists : Our dealers section which is linked directly to a PTA members database. There are separate pages for dealers in moderns, accessories, auctions, and ebay sellers and the largest section, dealers in old / antique postcards, is also sectioned geographically.

Fairs Listing : currently events organised by members of the association are listed and these link to further information about the organiser and links to their own websites. Club events will also be included soon.
Hobby Information : Beginners guides by Liz McKendrick are included in the information section, which we hope to expand soon.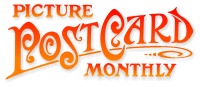 News and announcements are now handled by our messageboard ....however we still recommend you use Picture Postcard Monthly to keep in touch with what's happening in the hobby.



Clubs are listed in three categories, UK, International and Specialist Societies. We plan to improve this section over the coming months and will be contacting clubs for more information. If you'd like to alter your clubs entry please contact us
We have an active message forum, where you can join in the discussion on various topics related to postcards or the collecting hobby. We would like to encourage as many as possible to join in. Anybody may view the postings, but you need to register before you can participate.
This website is operated & funded by Postcard Traders Association from members subscriptions.

The association promotes fair and ethical trading policies within both the collecting hobby and other postcard businesses, promotes postcards and stages the annual Picture Postcard Show.

The show is the largest international event of it's kind and is run on a non-profit making basis by volunteers. Any business or individual trading in picture postcards is welcome to join the PTA.