Not all postcards have an image on the front to tempt collectors – some just have printed messages, mottos or rhymes that take up most of the card, occasionally cards were published with dialect captions particularly of Devon or Yorkshire dialects.
Others have a place name or girls name printed in large letters with images within the letters or even just a very large letter of the alphabet. My favourite of these types of cards are those in the various 'language of…' series weather it be the language of stamps, eyes, vegetables, flowers etc, they don't strictly fall into the message card category but are great fun to collect all the same.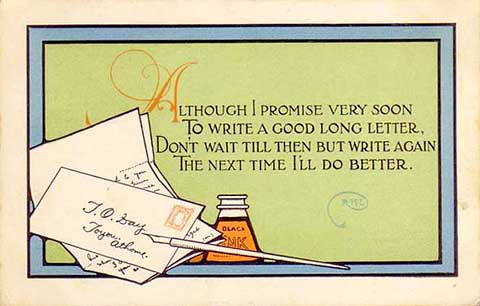 Message This card just has a message asking the recipient to reply! It was published in the David Message Post Card series and retails for only about £1.00.
A M Davis is the most well known of all publishers of these types of cards – their message cards differed from general greetings cards as they did not always celebrate known occasions or anniversaries e.g. the 'Fairy Whispers' series by Beryl Hay as well as many war time sets such as 'Khaki Kiddies' painted by H G C Marsh Lambert as well as War Bond Campaign cards.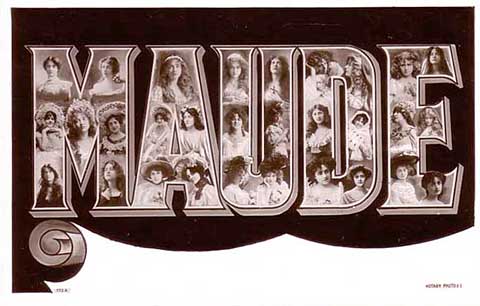 Maude This rather elaborate image shows the name May with photos of Edwardian actresses inside the letters. It was published by the Rotary Photographic series. Cards like this retail for around £1.50.

There are quite a few different series of cards that fall into the single large letter category, and are obvious ones to collect as you can theoretically find one of each letter of the alphabet. With only twenty-six to collect in each series it should be a relatively quick job to get them all… but be warned one collector told me that he has been searching for the letters Q and X in one particular series with no luck yet!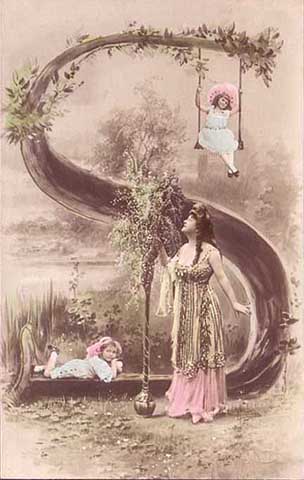 The letter S This series of large letter cards featuring the letter with cute children and glamorous ladies intertwined amongst them. This is a £1.50 card.
All these cards can be found in a dealers stock either under 'message cards', 'large letters' or 'Language of…' heading or even in their cheep boxes as they do not seem to have much value and all the ones I've illustrated range between £1 and £2 making them not only fun to collect but affordable too!!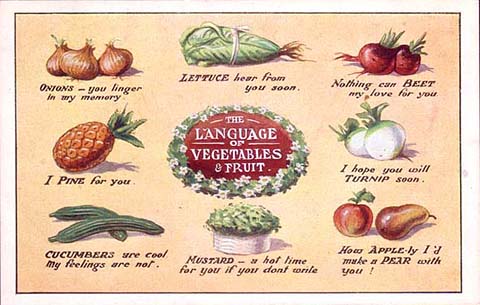 Language of fruit and vegetables This wonderful card shows the language of vegetables and fruit. I particularly like 'Onions you linger in my memory!'. Another £1.50
Next article: Joining Your Local Postcard Club