Hopefully by now you've managed to read the past articles in this series and are beginning to amass a nice collection of relatively cheap cards within your chosen theme. As your collection begins to increase in size the inevitable question of where and how to keep them crops up.
The method you choose will ultimately depend on what you want from your collection. Do you, for instance, want it to look like an original Edwardian collection filled with Aunties cards from the attic? Then original albums with their decorated front covers are for you, or do you want to display your cards with a write up about them close to hand? in this case it would probably be best to make your own albums from ring files, cardboard sheets and photo corners, thus giving you the opportunity to include the write up with interleaving for added protection.
However, for the vast majority of collectors the main alternatives are either albums or postcard boxes. Old albums designed in the Edwardian era for the first collectors to keep their cards are certainly very attractive and will give your collection a period feel, however, they are often hard to obtain and their pages so fragile that taking cards in and out tears the slots into which the corners of the postcard are fitted. This manoeuvre can also damage the cards themselves!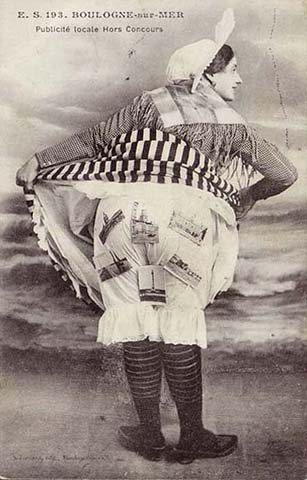 This card illustrates how not to keep your collection! Albums or boxes are far preferable!
Also another disadvantage of original albums is that the reverse of the card is not visible. Often the message is as interesting as the image and it is nice to be able to see it without having to remove the card! Luckily you need not dispair as there are many types of modern albums available. These vary in size from two, four or six cards per page. The pages comprise plastic leaves and the cards slide into a pre-made slot. They are designed for either horizontal or vertical cards so check the make up of the album and your collection before you buy! Also, make sure that the plastic used is acid-free as there is some concern about the long term affects of keeping cards in albums where non acid-free plastic has been used.
One of the many advantages of this type of album is that once it's full additional pages can be purchased at a relatively small cost, also white card could be added to adjoining pockets to display any write up you may wish, and finally, your collection will look impressive to everyone you show it to without the need to handle the cards.
Another way to house your cards is either in a shoe box or a specially made postcard box which can hold between 400 and 500 cards. If you decide on this method of storage I would strongly advise you to use one of the many types of individual paper / plastic envelopes available so that each of your cards can be protected against damage and continual handling, which is, after all one of the joys of postcards. Also, if your collection falls under different headings dividers can be used to separate them.
Finally, if you need to carry cards with you when you visit fairs etc to show dealers the type of card you are looking for, small wallets are available that hold about twenty cards and fit into most pockets! Where do you buy all there various accessories? The answer couldn't be simpler. You will find them on sale at most large postcard fairs or alternatively your nearest postcard shop should stock them - see the PPM annual for details.
Next article: What type of cards to collect when starting off