It often takes quite a while for someone new to collecting postcards to get an idea of the theme they want their collection to have. Some people never truly decide and happily collect any card that takes their fancy.
However, for the next few months I am going to try and inspire those of you who haven't really got any idea in which direction your collection should grow, to start to look for cards that fit a certain category.
The main premise that your collection should be built upon is that the cards in it must be ones you like. I know this may sound obvious, but trying just to buy rare or sought after cards, for this reason alone, is no way to form a collection.

Belvoir Castle. This printed coloured card is a nice example of a castle and dates from about 1910. I found it in a dealers 20p box only because no one seems to collect castles.
People who collect cards of a particular area are known as topographical collectors. 'Topographical' or 'Topo' postcards are ones that show an actual view and most cards tend to fall into this category. When they were originally produced, in the early part of the last century, most people only saved them to remind themselves of a holiday or because they were used to send or receive messages (remember there were no telephones and the post was delivered to your door several times a day).
Today, however, real photographic images of village life or town streets, often locally produced, are much sought after and command a high price. However, do not be put off by this because large numbers of cheaper, printed views were also produced, either coloured or black and white, by national publisher such as Frith or Valentines and these can still be had for a much more modest sum.
People collect topo cards for many different reasons, it may be an area where they live or they may be a historian needing images of how an area looked in the past, even people who are tracing their family tree are often looking for images of churches where marriages of past relatives took place or even the history of a foreign country may take your fancy.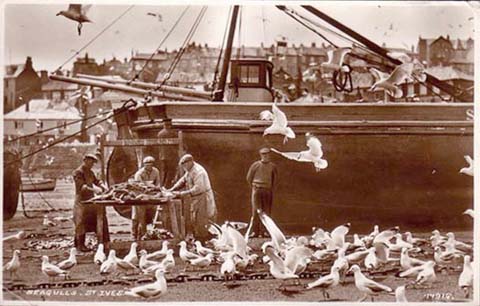 Seagulls St Ives I think this is a lovely real photographic postcard. The view is probably quite common but with all the activity going on it makes a nice addition to a collection, and at £2 it's not too expensive.
As you begin to specialise within your chosen area, categories will begin to emerge, which you may decide to collect such as transport, churches, country houses, post offices, piers, rural scenes, the list is endless. So, happy hunting! I feel I should end with a quote from the first edition of PPM in July 1900 - 'Ostensibly but a mere miniature view of some town or place of interest to the passing traveller, a picture postcard is yet capable of posing an interest and significance undreamed of by those who have not yet troubled to look into the matter.'
Next article: Collecting subject cards