So far in this column, I've looked at the two main ways of buying cards, i.e. auctions of one kind or another, or fairs, but by far the easiest way of buying postcards is actually from a Postcard Shop. If you're not sure where the nearest one is to you, most are listed in the Picture Postcard Annual.
The dealer will undoubtedly have a much larger stock than he can take with him to postcard fairs and you will be able to take your time going through his many albums and boxes. Beginners new to the hobby often think that cards from specialized shops will priced higher than they are prepared to pay and that perhaps an antique or bric-a-brac shop will be more of a bargain.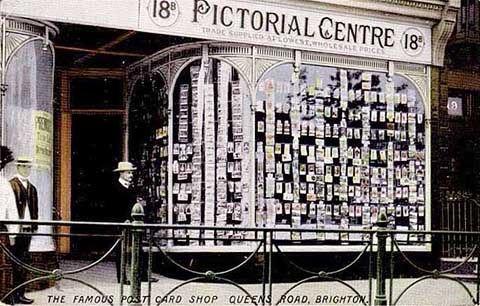 Famous Postcard Shop This card shows the Famous Postcard Shop in Brighton, its windows full of postcards. Hopefully the shop you choose to visit will be similarly stocked. (This shop, sadly no longer exists!)
This is not always the case. Antique dealers often put a blanket price on postcards which, although this may lead to a few bargains, generally means that run of the mill cards are overpriced. A specialist shop, on the other hand, will price stock at a reasonable level as the dealer is far more aware of current retail trends.
Anyway, if you feel a card is out of your price range you can always wait for the next available postcard fair and compare prices! Always remember to make a note of shops in areas you intend to visit, especially if it's away from your home area you may well find a bargain.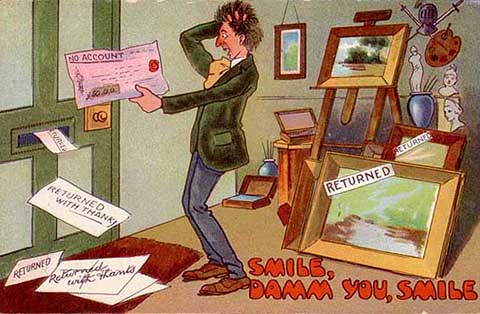 Smile, Damm you, smile Once you start receiving postcards through the letter box, hopefully you will look forward to the postman's knock !
As your collection grows and you begin to find it increasingly hard to find additional, cheap cards at fairs or shops another alternative is open to you. Placing an advert in the postcard wanted section of the small ads in PPM often yields good results. Be as specific as possible with what you want so as not to waste both yours and the respondents time.(reading some of the other ads will give you idea).
Many dealers read these ads and are prepared to send cards through the post on approval. This service generally works well - the dealer potentially has a new customer and you have a new source of cards. You will be expected to pay postage both ways and to return unwanted cards promptly. On the other hand the dealer will often offer you discount if you buy the lot, or spend over a specified amount, so bargains can be had.
Next article: How to keep your cards